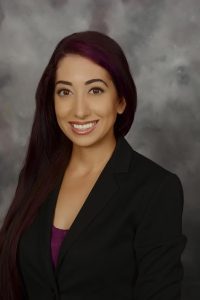 Sienna Osta was born and raised in Port Orange, Florida. Growing up in a diverse community helped spark her lifelong commitment to fairness and equality. She has a strong analytical foundation thanks to her pre-medical education, and a strong work ethic thanks to her self-made father.
Sienna moved to Tampa to attend the University of South Florida, where she earned a Bachelor of Sciences degree in Biomedical Sciences and a minor in Political Science. She then attended Thomas M. Cooley Law School, where she earned a Juris Doctor degree with a concentration in Litigation.
During her time in law school, Sienna represented her class as Class Senator and was an active member in the International Legal Honor Society, Phi Delta Phi.  She excelled in Trial Skills and Alternative Dispute Resolution and also received the Book Award in Negotiation Skills, Appellate Advocacy, Advanced Writing, and Legal Research & Writing. She also was a finalist in Cooley's Annual Mock Trial Competition. In 2015, the Hillsborough County Bar Association Trial & Litigation Section awarded Sienna a scholarship for her winning article on Jury Trials are Important to American Jurisprudence.
Before joining Hackworth Law, P.A., Sienna was a solo practitioner handling cases in criminal defense, family law, and general litigation. Prior to that, she served nine months at the State Attorney's Office for the 13th Judicial Circuit as a Certified Legal Intern.
Sienna Osta is friendly, relatable, and dedicated to her work. She has great rapport with the Courts and Opposing Counsel, and is committed to securing the best possible outcome for her clients.