Our Tampa DUI Manslaughter attorneys discuss the impact of the Aaron Cohen Life Protection Act on DUI cases involving death.  On July 1, 2014, several Florida statutes became effective that had a significant impact on criminal justice issues. Chief among them, was Senate Bill 102 better known as the Aaron Cohen Life Protection Act. This act was designed to combat the recent increase of Floridians fleeing the scene from DUI accidents, which law enforcement and politicians perceived to be an attempt for those individuals to get away from potential DUI penalties. Law enforcement and politicians believe those individuals were going home, sobering up and then turning themselves in solely to avoid the DUI penalties.  There was a very memorable case allegedly involving this scenario this Summer in Tampa, when an accident occurred on Kennedy Blvd.  As a Tampa DUI Manslaughter attorney, I'm aware of other reasons in similar cases people would flee the scene, but that's a different discussion for a different time and a different place.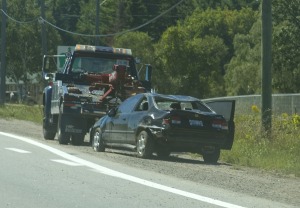 This act primarily increased the penalties for folks involved in leaving the scene of a deadly accident and DUI manslaughter. Both of these charges now have a four (4) year Florida state prison sentence due to the level on the Florida score sheet. It further increased Leaving the Scene of an Accident with a Death to a second-degree felony. These minimum sentences are related to the felony level and the points associated with them, which are assessed on one's Florida sentencing score sheet.  We discuss Florida's sentencing structure elsewhere on our blog.  For a general overview, check out our blog article here.  It's also worth noting now that folks involved in DUI manslaughter and Leaving the Scene of an Accident involving a Death now has a three-year minimum driver's license suspension. Again, it's clear based on our analysis this is an attempt to discourage individuals from fleeing the scene in an attempt to get a lighter sentence.
If you have questions concerning DUI manslaughter, driving under the influence or any other traffic accident involving a death, contact the Tampa DUI Manslaughter Attorneys of the Hackworth Law Firm for a free case consultation. We've handled thousands of criminal cases in the entire Tampa Bay area. We'll sit down with you and ensure we develop a case, plan a strategy to assist you in protecting your rights and interests. If you'd like to contact one of our Tampa DUI Manslaughter Attorneys immediately, please use the "Contact us now" tab in the upper right-hand corner of our website. We appreciate you taking the time to check out our Tampa Criminal Defense Attorney blog and look forward to working with you in the future.