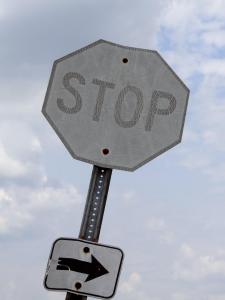 Tampa traffic attorneys are often asked what specifically constitutes a violation of right of way. Florida Statute Section 316.123 provides the specific statutory and legal definition of what is actually a violation of right of way is in Florida, but the easiest way to think of it is essentially it's running a stop sign or in another way obstructing a right of way. The overwhelming, most common example of this though is simply running a stop sign or failing to stop properly at the crossbar associated with the stop sign.
It is worth noting, though that Florida Statute Section 316.123 does provide specific direction for individuals on how to handle a situation where more than one person arrives at a stop sign at once. Anyone that's driven the Tampa Bay area knows that many folks simply can't decide who goes first or who goes last. This specific Statute provides that the driver that first arrived at the intersection has the right to go first then the others are to comply in that same pattern of whoever arrived first goes first.
If you have questions concerning a violation of right of way ticket or other Tampa traffic issues, contact the Tampa traffic attorneys of Hackworth Law for a free case consultation. We've handled thousands of traffic matters in the Tampa Bay area and look forward to sitting down with you and figuring out a way to fight and contest your charge. If you'd like to contact one of our Tampa traffic attorney immediately, contact please use the "contact us now" tab in the upper right hand corner of our website. We appreciate your time and attention to checking out our Tampa traffic attorney blog and look forward to working with you in the future.