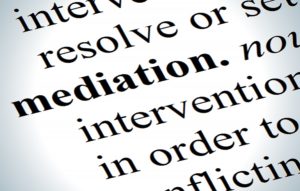 Divorce is not an easy process – especially if there are children involved. During this emotionally charged time, it can be easy to allow animosity towards your soon-to-be-ex spouse to derail discussions about splitting up assets, child custody, and finances. Investing in divorce mediation can help your divorce proceedings run more smoothly, keep things amicable between you and your spouse, and make this process easier on your children.
What is Divorce Mediation?
Divorce mediation is when you and your spouse discuss aspects of your divorce with a third party. The neutral third party is there to ensure that discussions take place as amicably as possible, and to refocus the discussion when it gets off track.
In mediation, things like splitting up your assets, child custody, and finances are ironed out so that everyone is on the same page during divorce proceedings.
Make Divorce Easier on Your Children
During mediation, child custody and support are an important topic of discussion. Because it is such an emotionally charged topic, it can be difficult to come up with a solid plan without fighting with your spouse. Mediation aims to make co-parenting easier post-divorce.
Even though you are no longer together, your children still love both of you. It can cause psychological damage to them if they see you fighting every time you interact post-divorce. When children are involved, you rarely have any choice but to continue speaking to your ex-spouse, so using mediation is a great way to ensure that you and your ex can maintain an amicable relationship, or at least remain civil in front of your kids.
Make Divorce Easier on You
Ironing out major decisions prior to divorce with save you a lot of stress and money. When everything is agreed upon prior to appearing in court, there will be less arguing in the court room, and therefore you will spend a lot less time in court.
Our Tampa family lawyers can protect the rights of you and your children during divorce proceedings. Contact us today to learn more about how our experienced lawyers can represent you.